Check the browser link address. Verify the URL before clicking or logging in.


Malicious websites may look identical to Zero1 website. Look out for any misspelling, substitution of letters, and/or deliberate shifting of the "domain" to other parts of the URL. Our official links include the following:

▪ https://zero1.sg
▪ https://support.zero1.sg
▪ https://www.instagram.com/zero1.sg/
▪ https://www.facebook.com/Zero1PteLtd/

Ensure prefix "https://" is included.


Ensure you are using the official Zero1 website. To do this, go to the address bar of your web browser and click on the "lock" icon. You should see the following: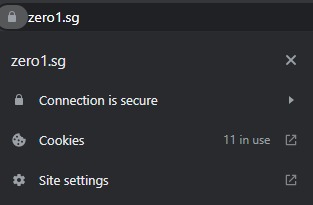 Then click on "Connection is secure" and you should see this.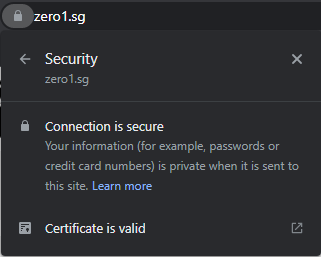 This information states that the certificate is valid and issued to zero1.sg.
In some cases, we have seen convincing URLs being masked and will redirect you to a malicious website.

To determine if a link is reliable:
- On desktop computers, hover your mouse cursor over the link to view the full URL.
- For mobile devices, hold your finger down on the link until a window pops up and shows you the full URL. Please note that some mobile devices might not have this function. In which case, you can still copy and paste the link into your browser to verify the domain.